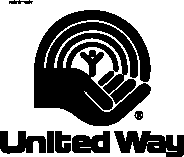 Kentuckiana Girl Scout Council,
Jefferson County, Indiana
Girl Scouting
Girl Scouting is a movement that gives girls from all segments of American life a chance to develop their potential, to make friends, and to become a vital part of their community.

More than just cookies!
Based on ethical values, Girl Scouting opens up a world of opportunity for youth, working in partnership with adult volunteers.

The 1998 Jefferson County United Way allocation to the Girl Scouts is $15,000.00.

Your dollars Sharing the Magic!